The song lyrics search apps are a real boon for music lovers. Just imagine the situation: you are sitting with your friends at a party, and then a track starts playing on the radio, but you haven't had time to hear its title, but you like it.
What to do? Please take advantage of special utilities that will study the recording of this song and compare it to a vast library of its tracks, and then provide you with all the information about it: from the author to the lyrics. Here's our ranking of pretty good utilities of this nature.
Musixmatch
Musixmatch is an efficient application where everything you need is within arm's reach (in the main menu). You can even count on a widget on your desktop to get song lyrics with just a few buttons in seconds. Musixmatch has algorithms that make the audio and lyrics sync instantly – the percentage of finding the track is near the 90% mark, which is a lot.
Quicklyric
Perhaps right after Musixmatch, Quicklyric is worth mentioning. "But why?" – you'll probably ask. The fact is that they are highly similar. Except that Quicklyric solves many of Musixmatch's problems and does it quite intelligently. So, to save lyrics in Musixmatch while offline, you have to open the app and go to the tab with the song, and you have to do that every time you want to read the lyrics of a new track. It's tedious.
Quicklyric solves this problem nicely: it scans the media library for all the audio files and then searches its database for relevant lyrics. Quicklyric downloads all the lyrics and saves them offline so you can access them anytime, anywhere. And, of course, without the internet! Other than that, Quicklyric is an exact copy of Musixmatch. Except for a few features. For example, the availability of the karaoke mode and night interface.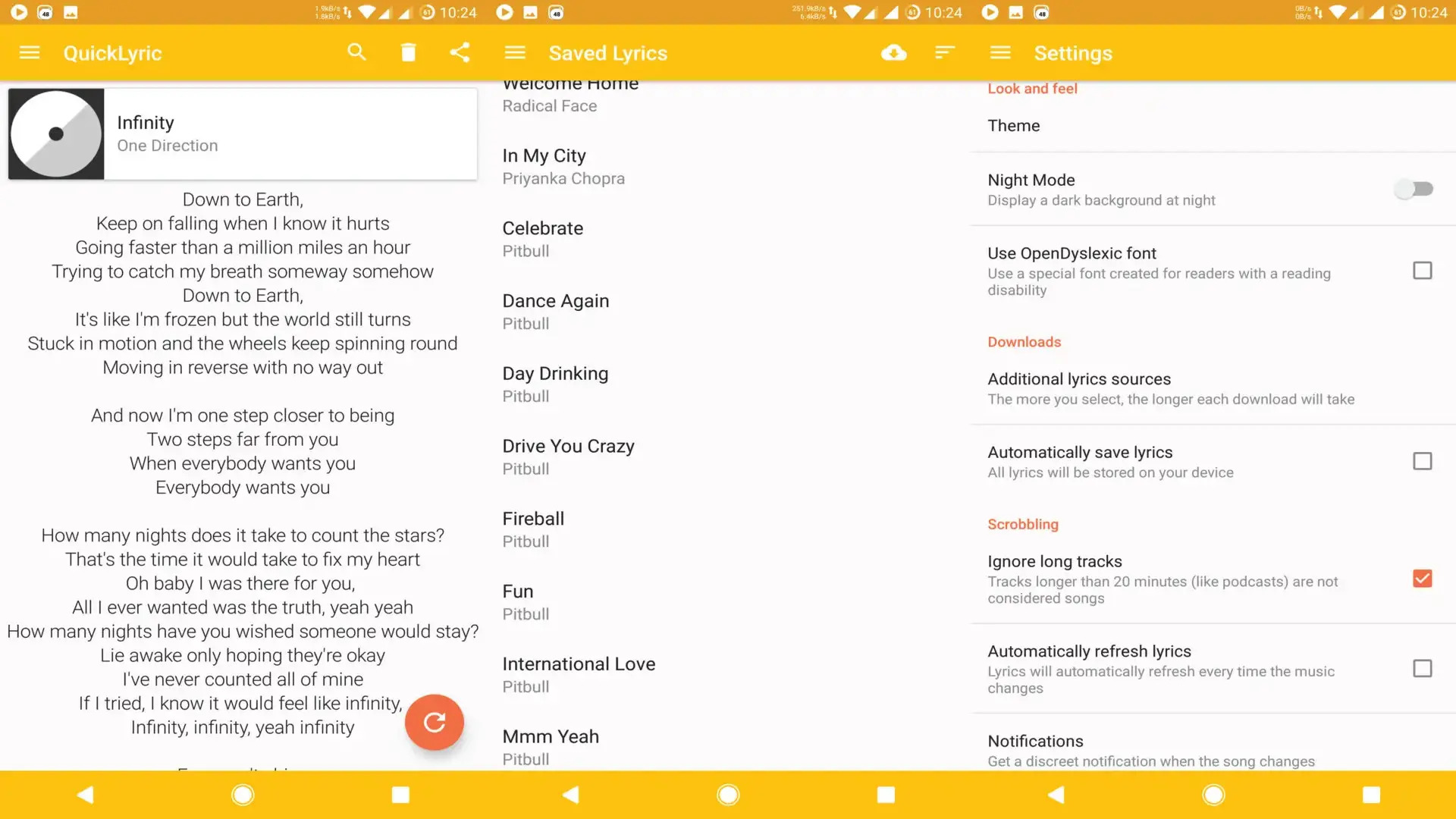 Genius
A top-rated service that almost everyone knows (well, who at least once tried to find a song or its lyrics). Genius outperforms its competitors by having a built-in intelligent search that allows one to instantly find pieces by simply typing in their words. Like all similar utilities, Genius also has a feature that will enable you to recognize the song playing automatically.
Genius is more than just a platform for searching for a track but for sharing your opinions with others. In this application, any user can supplement the lines of their favorite channels with a note revealing the meaning of these lines. If you understand the work of a particular artist, with such notes, you can give other users a lot of new information about him – the kind of information they can hardly find in the public domain.
Shazam
Another super-popular service that we couldn't help but mention. Shazam can recognize tracks in seconds using the microphone on your device. But this is not the end of Shazam's abilities. This utility can also, for example, display a song's lyrics on your device's screen. You don't have to enter any special menu for this since the text will be displayed as soon as the application identifies the song.