Today it's possible to find many different utilities that conveniently interact with music: listen to it, read lyrics, write annotations, make downloads, etc. It's easy enough to get confused in all this diversity. We recommend checking out our selection if you still need to find the perfect music app.
Spotify
And at the top of our list, of course, is Spotify. It's one of the most famous (if not the most) music-listening apps, with an imposing number of tracks, podcasts, ready-made playlists, and radio stations. Spotify lets you listen to music on your phone, tablet, TV, speakers, Chromecast, or PlayStation devices by controlling playback from your smartwatches.
The app is available in many countries worldwide and on all platforms, from smartphones to PCs. But Spotify has one rather unpleasant downside. The free version of this utility is almost impossible to use.
Well no. You can use it, but it's uncomfortable because you can't choose proper tracks, and ads constantly bombard you. But the subscription price is low, so if you buy it, you can plunge into the world of music and enjoy it without any trouble.
Apple Music
Apple Music is a popular music service introduced by the same company in 2015. This utility gives access to over 40 million tracks and 24/7 radio, allowing you to download and share ways with friends. All new users get a free subscription for the first three months, but after the period expires, they'll have to choose and pay for one of the plans.
Apple Music offers many options: from relatively inexpensive ones that students or unemployed people can afford to one subscription for several devices (up to 6). By the way, there are no ads in Apple Music, and all tracks are initially available in good quality. This is a massive plus, of course.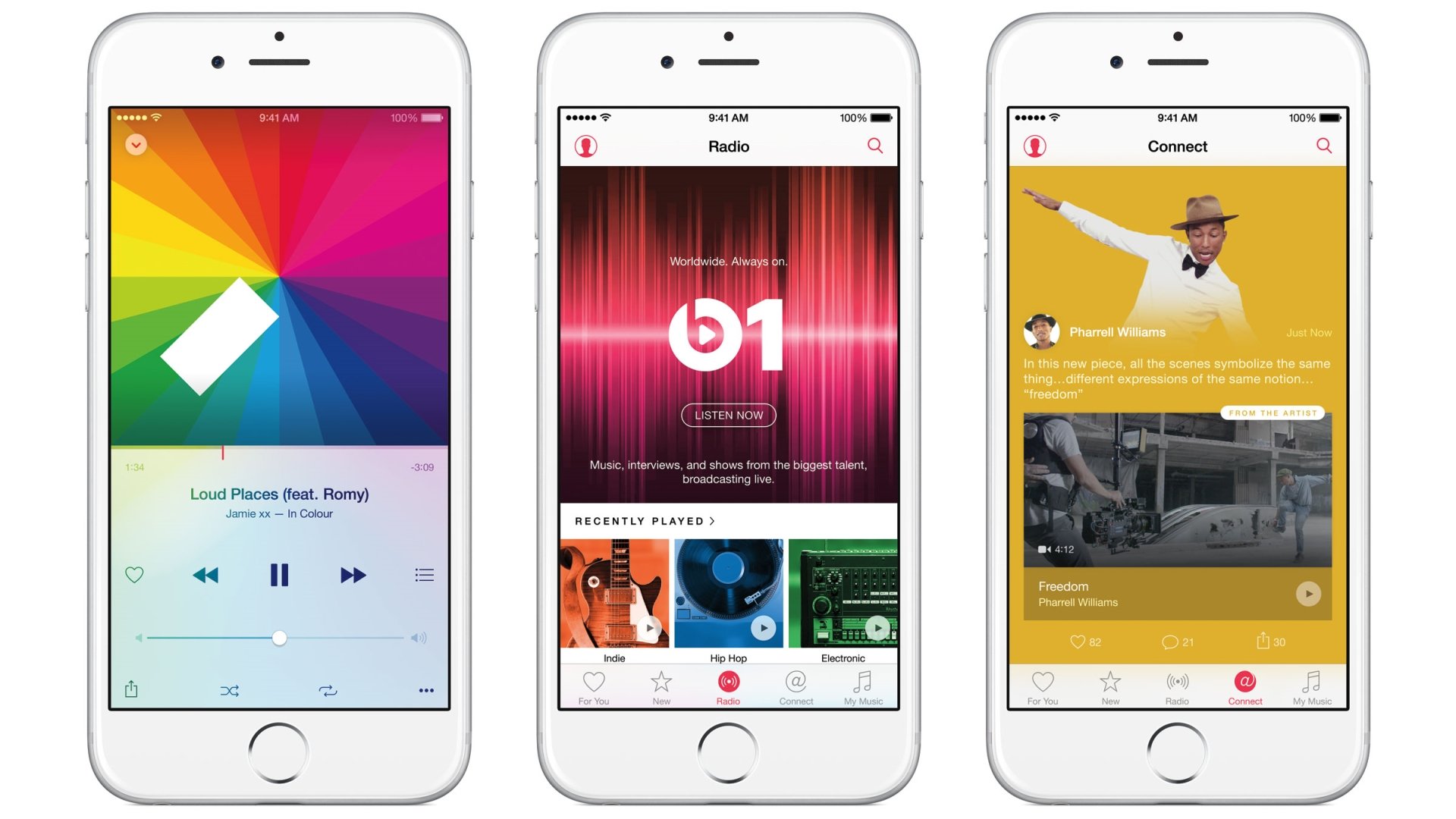 YouTube Music
YouTube Music is a service for streaming music from Google with an extensive database of tracks of different genres. The definite advantage of this utility is the easy search, ready-made playlists, radios, selections, and the ability to add a favorite track to your bookmarks.
Using YouTube Music, you can switch between audio and video, listen to tracks on your phone, computer, smart TV, smart speakers, watches, in the car, and much more.
YouTube Music is distributed on a partial-free basis. Each new user will be given a subscription for a specified period, but as soon as it expires, it must be renewed to get full access to all the service features.
Pandora
You can't help but think of Pandora regarding music apps. This service is a classic among all free apps for listening to tracks of all genres and podcasts. With Pandora, you must choose an artist, a genre, or a composer on your mobile device. Everything else is handled by an algorithm of personalized selection, which will fill your playlist with suitable tunes.
By the way, not so long ago, the developers of this utility added a voice search function, which allows you to interact with the application flexibly. You can, for example, order the system to change one track to another or use other functions like group search, etc. Pandora has also added a personalized radio station that plays songs based on your preferences.
VOX
And at the end, the most delicious – meet the VOX. This utility combines a player and an aggregator of other music streaming services. VOX has many advantages that make it a widespread utility among music lovers. For example, it is one of the few applications that allow you to listen to music in a variety of compression formats and without any loss of quality.
VOX is also beloved for the fact that it intelligently organizes your feed with music from a variety of sources. For example, you can have profiles on SoundCloud, YouTube, and Last.fm, and VOX will compile all the tracks you've added to your favorites there into one playlist.
And finally, subscription. With VOX, you get unlimited cloud storage, allowing you to add any music in any quantity. Then you can easily enjoy it even if you don't have internet – and you can thank the caching feature for that.